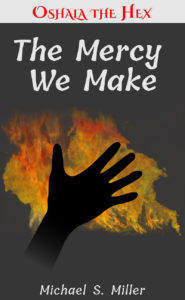 My first foray into sword-and-sorcery fiction is now available!
I've never found the "sword" quite as compelling as the "sorcery", so the main character of my stories, Oshala the Hex, is a sorceress who has sacrificed part of herself in exchange for magical power that few others possess.
In this first short story, "The Mercy We Make", Oshala the Hex is a solitary figure who breaches the stoic mountain fastness of a long-forgotten emperor in search of an ancient artifact. The undying spirits within welcome a new, living soul to torment. But who will get the better of whom? Can Oshala the Hex escape where multitudes have fallen? Will her mission of mercy end in triumph, or eons of unending torment?
Check back next month for a new tale of Oshala the Hex.
The first 5,000-word tale is now available from these fine retailers: