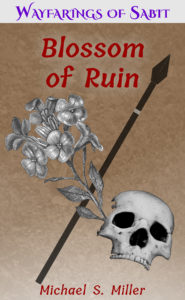 The first tale of Sabit the Wayfarer, Blossom of Ruin, starts on Tuesday.
Blurb: Sabit lives by her wits and her spear. When a cutpurse makes off with a bauble, what will Sabit risk to regain what is hers? What bitter, uncanny fruit will bloom from her thirst for vengeance, or justice?
This story will span the month of November. A new story will start December 1.
You can follow the story:
You can always follow Sabit's adventures here on ipressgames.com.
You can support this and other sword-and-sorcery fiction on Patreon: https://patreon.com/michaelsmiller