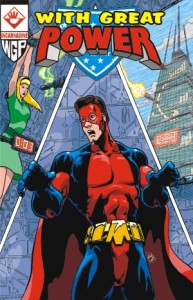 With Great Power is a role-playing game of melodramatic superheroes. It is self-published by Incarnadine Press.
The the classic edition is only available via special request from Incarnadine Press. Contact me directly for details.
A completely revised, rewritten, reimagined, and redesigned edition will be available 2016. Details are available here.
Character sheets and other support materials for the original edition are available here.
To see a glimpse of the conflict system, check out the art pages from the book.
Reviews of With Great Power…
Actual play of With Great Power…
Related Links